Responsible Energy Starts with Us
We believe that the energy transition is a global challenge, and it will take all of us to get there. We are delivering change for good by relentlessly improving the efficiency and effectiveness of our operations, as we fight to lower the cost of renewable energy.
We know the energy transition is challenging, and we're committed to making it happen. We use our curiosity, passion, diversity and focus to make renewable energy accessible and affordable for everyone. We believe in unleashing limitless energy—for all of us!
Our Environment, Social Governance Statement
CPV retail's Environmental, Social, and Governance (ESG) commitments are structured around four key areas relevant to our business: Our Products, Our People and Communities, Our Environment, and Our Corporate Governance.
We are committed to investing in clean energy sources that do not pollute our planet or contribute to climate change. We utilize our renewable generation assets as a 'Greentailer' to offer customized products that meet our customer's Environmental Sustainability goals.
OUR ENVIRONMENT
We have developed a comprehensive environmental management system to ensure that we continue to operate responsibly according to the principles of sustainable development. This includes measures such as reducing energy usage through implementing energy efficiency initiatives; recycling materials; minimizing water use; reducing waste disposal; minimizing emissions; and working with suppliers to improve their environmental performance.
CORPORATE GOVERNANCE
CPV Retail is proud of our strong corporate governance practices. Our Code of Business Conduct is a formal statement of our values, which applies to all directors, officers and employees. The code sets out the expectations we have with respect to integrity and ethical behavior in the workplace.
OUR PEOPLE AND COMMUNITIES
We source our products from local suppliers wherever possible. We aim to support local communities by partnering with local charities and non-profits in order to make a positive difference in the lives of others.
Who We Are
CPV Retail Energy is the retail subsidiary of Competitive Power Ventures (CPV). CPV has experienced energy professionals dedicated to increasing America's energy sustainability by providing safe, reliable, cost-effective and environmentally responsible electric power. To achieve this goal, we focus on optimizing existing resources, and when necessary, partnering with the world's leading technology companies and financial institutions to deliver new state-of-the-art facilities where they are needed most. Our sustained track record of success has enabled us to grow into one of the premier energy companies in the United States. Learn more at www.cpv.com »
Leadership Team
Qadir Khan
Qadir is President of CPV Retail Energy LP and is responsible for leading the retail entity. He has more than 20 years of experience in both the C&I and residential retail electric power industry. Prior to joining CPV Retail, Qadir held several leadership roles with Consolidated Edison Energy, and Source Power and Gas. He has extensive experience, originally building his retail career at Con Edison before starting his own retail company, Source Power and Gas. He built Source Power from the ground up to one of the top-tier commercial and industrial retail companies in the US and successfully sold the company to ERM, an Australian-based publicly traded retail entity. Qadir is a graduate of SUNY at Plattsburgh, McGill, and Harvard Business School
Kelli Mitchell
Kelli Mitchell is the Vice President of Retail Operations for CPV Retail. Kelli has 20+ years of experience working within several facets of the retail electricity business. She worked at Constellation Energy where she was responsible for overseeing the credit and collections, enrollments, billing, account management, and customer retention functions. At Gexa Energy, she managed both retail operations and retail risk. In her last role as COO of Summer Energy, Kelli led the development and implementation of processes for expansion into PJM and for a new complex bill cycle project. Over the last 4 months, Kelli has been consulting with CPV in the Retail Operation business. Kelli graduated from Drake University, Des Moines, IA with an MBA, and her BS undergraduate degree in Business Administration, majoring in Accounting.
READ COMSTOCK
Read Comstock is Vice President, Regulatory – Retail for CPV Retail Energy LP. In his role, Read is responsible for understanding the existing rules and laws in the markets CPV Retail serves and the impact those rules have on CPV Retail's commercial operations and deal structures. Read supports CPV Retail's initiative to support commercial and industrial customers to think strategically about setting and meeting their Environmental, Social, and Corporate Governance (ESG) goals. Read also manages the regulatory compliance for CPV Retail. Read's career has been devoted to electricity restructuring. Read has a deep understanding of electricity market structures in the United States and how those markets impact Retail Electric Providers. He has 20 years of experience covering state and federal regulatory matters in North America related to retail and wholesale electricity markets. Read has advocacy experience before multiple state and federal jurisdictions and he was elected by the Retail Electric Provider segment in Texas to serve on the ERCOT Board of Directors from 2014 – 2016. Read previously held positions with AB Power Advisors, LLC, ERCOT, Source Power & Gas LLC, Direct Energy, Strategic Energy, and PG&E Energy Services. He graduated from the University of Illinois at Champaign-Urbana with a B.A. in Political Science. He also graduated from Loyola University of Chicago School of Law with a Juris Doctor.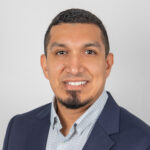 Khristian Camacho
Khristian Camacho is the Vice President of Retail Pricing and Supply for CPV Retail Energy LP and is responsible for the retail portfolio management as well as the pricing and structuring of products for retail customers. Prior to joining CPV Retail Energy LP, Khristian held management positions as the Director of Pricing and Supply at Summer Energy, Manager of Government Aggregations Pricing at Direct Energy, and Manager of Pricing and Structuring at Source Power & Gas. Khristian holds a Bachelor of Science in Economics from the University of Houston.